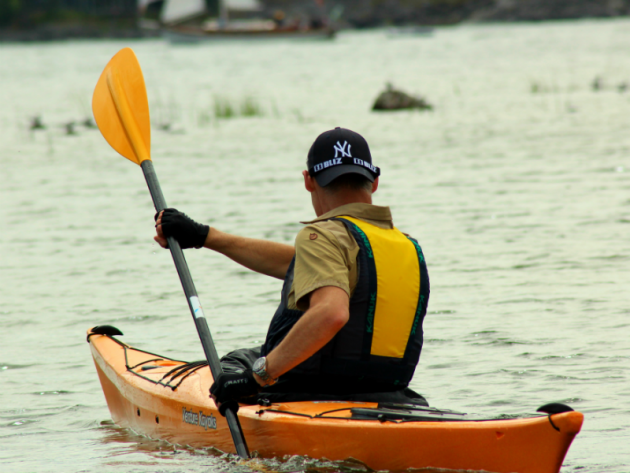 +{{ numberOfHidden }}
Kajak & Uteliv
Continuation courses
These courses is for you that have done some paddling and now want to learn more. It is good, but it is not requirement if you have participated in one of our beginners courses. Our experienced instructors will teach you more about paddle strokes and correct the mistakes that you might be doing wrong.
Continuation course 1 – Forward paddling
Forward paddling technique is something we sometimes forget when we practice the perfect role ,high brace or the most effective sweep time. What we forget is that it is the technique we spend almost all our time on when we are out and paddling! The course puts most focus on just forward paddling , we will be practicing trunk rotation and getting an efficient and functional technique. In the afternoon we practice several stering stroke and self-rescue exercises.
Course elements: Efficient forward paddling , paddling backward , stop, lateral movement, low brace, paddlefloat rescue and buddy rescue.
Dates 2020: 4th of July and 16th of August
Time: 9:30-16:30
Price: 1190 SEK per person including fully equipped kayak
Continuation course 2 – Technique
Have you been out on a few trips, begin to feel comfortable sitting in a kayak but would like to get a little better at maneuvering your kayak. What is the most effective way to get turned your kayak ? Do you now how to get support when a large wave breaks against your kayak ? In continuation course 2 the focus is mainly on improving various forms of  maneuvering and support technique. We don´t paddle a great distance, but we focus more on the concept of " practice, practice , practice … " At the end of the day we will also focus on some different rescue exercises.
Course elements: Different kinds of maneuvering techniques, (stern roder, sweep stroke, bow roder, cross roder and more) recovery techniques, rescues.
Dates 2020: 19th of July and 30th of August
Time: 9:30-16:30
Price: 1190 SEK per person including fully equipped kayak
Continuation course 3 – Safety
Have you ever thought about what happens if someone collapses in the group you paddle with ? What if someone is injured or becomes so tired that it is not able to paddle all the way back ? Continuation course 3 is the course that focuses on safety when we are out and paddle . What dangers do we have out there and how do we avoid them in the best way . We focus on things like the right preparation , towing and buddy rescue and self-rescue . This is a wet course and several changes of clothes may be needed.                                                                                                                                                                    
Course elements: Theory and discussion on how we can reduce the risks of paddling , towing , edging the kayak , high brace , various types of rescues ( buddyrescue , paddlefloatrescue).
Dates 2020: 2nd of August and 12th of September
Time: 9:30-16:30
Price: 1190 SEK per person including fully equipped kayak