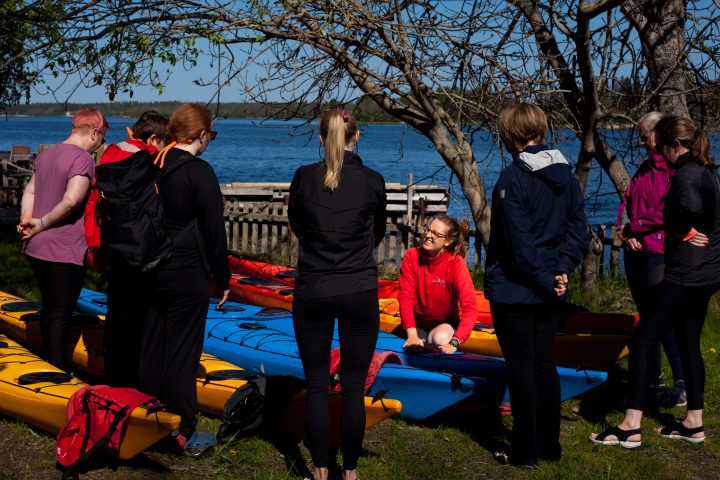 1/2-day "Have a try"-course
If you have never sat down in a kayak before this is the course for you.
Come try out sea kayaking with us at Kajak & Uteliv!
A 1/2 day kayak course that suits whoever has never tried sea kayaking before. You will get a good introduction to kayaking together with an experienced instructor. We will go through the basics in kayaking during the morning and in the afternoon you are free to bring out the kayak on your own to continue practicing the techniques or just have a good look around our beautiful area.
We meet at 9.30 AM at Gräddö Brygga. First off we'll have a short presentation of the course and answer any questions that you might have. We will talk a bit about the kayaks and other equipment before we head out on the water.
We will hit the water and explore the fun things with paddling. We'll go through basic techniques like forward paddling, stopping, turning and paddling backwards. We'll be back at Gräddö around 12.30 and finish off with a small evaluation. After that you have the opportunity to eat some lunch and then take a small trip with the kayaks by yourself until the shop closes at 17.00
The course includes both theoretical and practical exercises.
– How to get in and out of the kayak safely
– Paddle Technique and kayak skills
– Sea regulations
Time: 9.30-12.30 (Afterwards you may use the kayak until 17.00)
This is included
Kayak
Spray skirt
Paddle
Lifejacket
Paddle float and pump
Wetsuit
Certified guide
Course certificate
What to bring:
Clothes to paddle in (normal exercise clothes works fine, not jeans or cotton)
At least one set of spare clothes
Extra base layer if you are feeling cold
Swim wear and towel
Wind/waterproof jacket
Water resistant shoes (preferably some small and handy shoes since it can be tight for your feet in the kayak)
Hat, sunglasses, sun screen
Water bottle and thermos
Warm clothes for the evening
Lunch for the course day