Gräddö is an ideal base for kayaking in Rosalgens archipelago. There are many nice day trips in relatively protected waters as well as the opportunity to paddle for several days in the outer archipelago. From Gräddö you can paddle inwards to Norrtäljeviken where you are sheltered from the wind but In return, there are a lot of boat traffic during peak season. Another perfect day trip is around Lidö, which is a nature reserve with several places to eat your own picnic. At Lidö you can also find a cafe, restaurant, guest house accommodation and a hostel.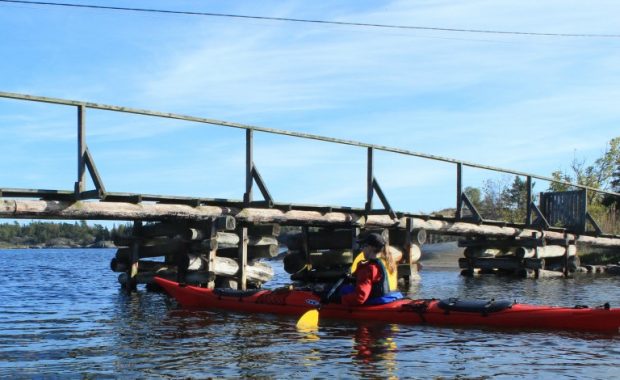 For those who want to paddle a little bit further the outer archipelagos provides great places for sea kayaking. Places like Håkansskär and Vattungarna have great kayaking and camping on the cliffs. If you want to stay comfortable the hostel on Fejan and their first-class skärgårdskrog is a wonderful option. Another tour that requires an overnight stay goes north from Gräddö towards Arholma. There you can find hostels, one restaurant and things to do.
For the one that wants a slightly longer paddle Söderarm archipelago is offering several excellent tent rocks but one should keep in mind to bring water for the whole tour since it can be hard to come by on the islands.