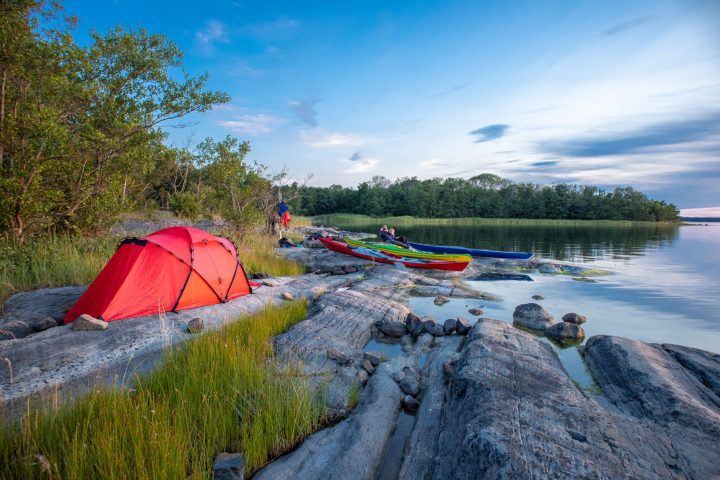 5-day tour in the North Archipelago
We gear up for 5 exciting days in the archipelago and then we head out into the wonders of nature. Come along and treat yourself – it will be great!
We arrange everything for the ultimate kayaking experience in Roslagen archipelago. Through out the tour we paddle at an easy pace, enjoying the outdoorlife and nature around us. During five days we will explore the islands of the northern part of the Stockholm archipelago.
On Day 1, we start at 10 AM to get organized, pack our kayaks and have a paddling briefing on land. The first day we will spend some time with getting a perfect paddle move, which will make the rest of the trip more enjoyable and more fun. When evening comes, we go ashore on a nice island and set up camp. You can take a dip in the sea while your guide prepares dinner. For those who want, it will be possible to capsize and evacuate out of the kayak in the water. We stop on beautiful islands and there will plenty of time to go exploring the different islands. We will eat delicious, homemade and organic food.
This is inluded:
Certified guide
Kayak package (Kayak, spray skirt, PFD, paddle)
Camping package (Part in, or your own, two-person tent, sleeping bag, liner, inflatable sleeping mat)
Foodkit (Plate, cup, cutlery)
Food (Lunch x5, dinner x4, breakfast x4 and snacks)
What to bring:
Your own equipment should be packed in plasticbags or drybags, preferably many small ones, to make sure it stays dry during the whole tour.
Clothes to paddle in (excerise clothes works fine, but not jeans or cotton)
Spare clothes + some warm clothes for the evenings
Waterproof jacket and pants
Gloves to paddle in, if you easily get blisters
Shoes to paddle in, they will get wet
Sunhat, sun screen, insect repellent
Towel, swim wear, personal hygiene products
Water bottle and maybe some extra snacks