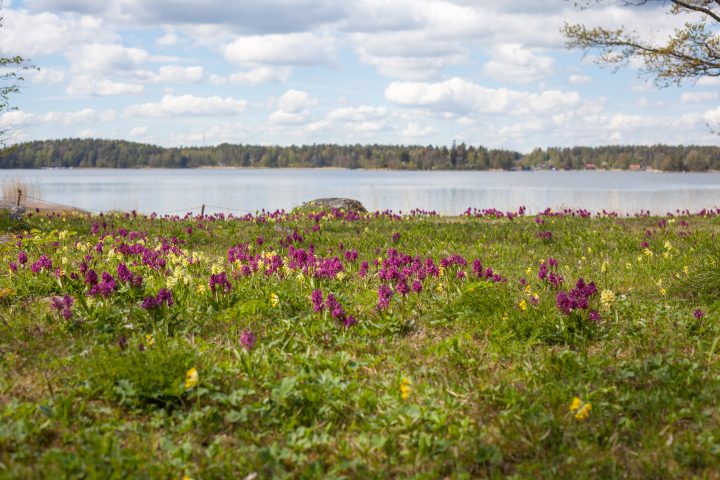 Day paddle to Ängsö Nationalpark
Join us for a great paddle to the smallest National Park Ängsö while the orchids are in bloom! On this day, we are investing in taking us to one of Europe's first national parks, namely the little pearl Ängsö in the Roslagen Archipelago. The national park is located about 10 km paddling southwest of Furusund, the picturesque little island in the northen part of the Stockholm archipelago. During the second half of May and the first half of June, the chance is the best to see the park's spectacular flowers in its essence, and we would love to take you there!
In the morning, the adventure begins at Kajak & Uteliv on Furusund. Together we go through the kayak (equipped with paddle, PFD, sparyskirt) and some paddle technique. Then you slide out into the Roslagen Archipelago and the freedom of the sea. Our guide leads you right between islands and narrow passages with Ängsö National Park as your goal. There we enjoy a good lunch, which consists of homemade potato salad and hot smoked salmon. It includes bread, butter, meal drinks, coffee and swedish fika. During the lunch break, we take the time to explore Ängsö's flowering meadows. Then the paddling continues back to Furusund, where we are again at about 17.00.
Time: 9.30-17.00
This includes: Kayak Paddle Cockpit chapel Life jacket Well-trained paddle instructor Lunch Own equipment: Clothes to paddle in (soft casual clothes in functional material, not jeans or cotton) At least one complete replacement, waterproof package Rainwear Swimwear + towel Waterproof shoes (preferably some smaller and flexible ones that do not feel clumsy in the kayak) Cap / sun hat, sunscreen, sunglasses Water bottle (can be filled on site) Waterproof bag to pack the clothes in (plastic bag often works well).