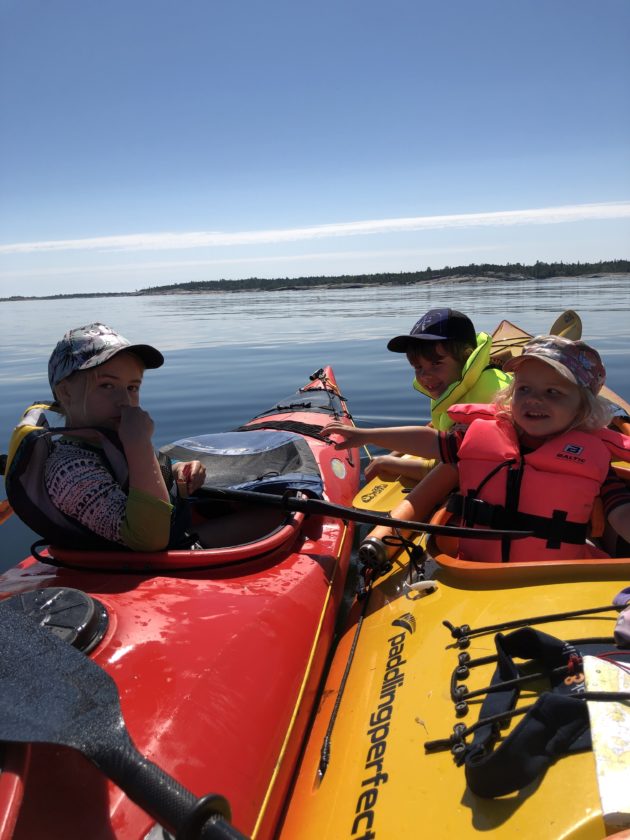 +{{ numberOfHidden }}
Kajak & Uteliv
Family Fun Paddle
Bring the whole family and tag along for an exciting half day paddle in Roslagen Archipelago.
Experience a fun and thrilling time together, maybe we even spark a new hobby!
Read more below.
Bring your whole family for this fun adventure. Our competent guides will make sure everybody enjoys a joyful and safe half-day paddling. We paddle in stable double kayaks (one kid and one adult in each kayak), but we also have a few triple kayaks where you can fit 1 adult and 2 kids or 2 adults and 1 kid. We will make sure to take a good break in a nice spot to enjoy some lemonade and yummy treats, of course there will be coffee for all parents!
Suitable for children between 2-12 yrs.
Tip: If the kids have their own life vests you can absolutely bring them to make sure they feel comfortable in their vest.
Times: 9.00-12.00 & 13.30-16.30
Dates 2021:
June: 29th
July: 6th, 13th, 20th, 27th
August: 3rd, 10th
Other dates can be arranged when booking at least 2 families (8 persons)
Price: 745 SEK (1 adult and 1 child), extra person 200SEK/person If you want to book 2 adult and 2 children – pick "2" product items.
If you wish to add an extra person to your booking, please note this in the "Optional order notes" once you place your order.
Payment for an extra person is made upon arrival.
This is included:
Kayak
Lifejacket
Paddle
Certified guide
Afternoon treats, juice and coffee
You bring yourself
Clothes to paddle in (sports clothing works fine, not jeans or cotton)
At least one set of spare clothes
Waterproof jacket and pants
Swimsuit and towel
Waterproof shoes
Sunhat, sun cream, sunglasses
Water bottle (can be filled at Gräddö)
Plastic bag or dry bag to put all the spare clothes in