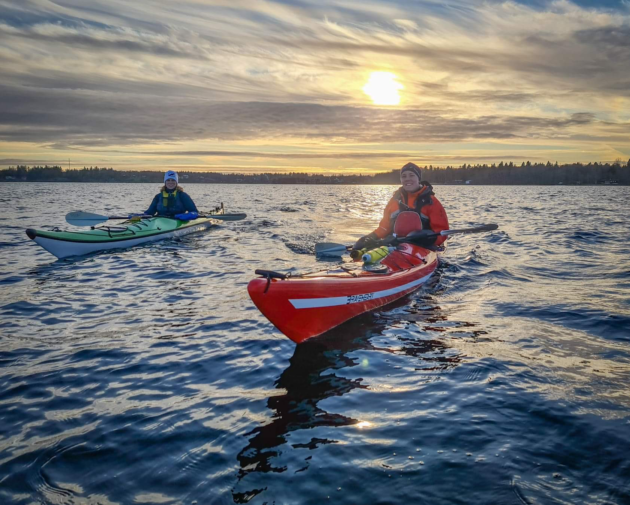 +{{ numberOfHidden }}
Kajak & Uteliv
3-evenings Beginners course
A course for you, if you have never taken a kayaking course before but want to lay down a first foundation for your upcoming paddle adventures!
Read more about the three evenings below.
Our 3-evening Beginners course suits whoever wants to start paddling or have been paddling for a while but never taken a course. The beginners course follows the norms of EPP 1 (yellow).
During 3 evenings we meet at 18.00 at Gräddö Brygga, and finish off at 21.
The course includes both theory and practical exercise:
Kayak basics – how to pack a kayak and adjust the feet pedals
How to step in and out of the kayak – at pier and beach
Forward and backward paddling
Maneuvering techniques
Capsize – yep, you will get wet and get your head under the surface!
Self-rescue
Buddy rescue
Sea safety, Public Right of Access and Leave no Trace-philosophy
Time:
18.00-21.00, three evening occasions.
Dates 2021:
1st course: 1st, 6th & 8th of June
2nd course: 29th of June, 30th of  June & 1st of July
Price: 1390 SEK per person, including fully equipped kayak
The course is suitable as from 15 yrs old.
This is included:
Kayak
Spray skirt
Paddle
Lifejacket
Paddle float and pump
Wetsuit
Certified guide
Assessment at EPP 1 and course certificate
What to bring:
Clothes to paddle in (normal exercise clothes works fine, not jeans or cotton)
At least one set of spare clothes
Extra base layer if you are feeling cold
Swim wear and towel
Wind/waterproof jacket
Water resistant shoes (preferably some small and handy shoes since it can be tight for your feet in the kayak)
Hat, sunglasses, sun screen
Water bottle and thermos
Warm clothes for the evening
Lunch for the course day